Langara – 18-holes and several ideas on the future of golf
Should a golf course – or parts thereof – be re-purposed for other public space and civic activities? This appears to be a question that will be considered for the 18-hole facility at Langara, one of three municipally-owned courses in Vancouver.
Last Wednesday (March 14), during a discussion around funding drainage related improvements on the course, a motion was introduced by Mayor Robertson that opened up the idea of using a portion of the Langara space for other purposes.
Here's the wording of the motion:
That the City approach the Park Board to collaborate on the following:

Options and financial analysis for transitioning some of the Langara golf course lands into a public park with restored wetlands and ecosystems, trail network, sports fields, and a track and field facility that adheres to international competition standards.
Options for partnering with the Musqueam, Langara College, the YMCA, and the province in relation to future use of the Langara golf course lands and the adjacent parcels.

And further that staff report back by July 2018.

That the recommendations from the report dated February 20, 2018 [related to funding drainage improvements] be referred until such time as Council can consider the report back from staff referenced in recommendation A above.
The motion seemed to catch a number of councillors, as well as the Park Board (which has Langara under its planning and management jurisdiction), off guard. In addition to a flurry of tweets from members of one of the opposition parties, a follow-up media release from the Park Board notes that Board commissioners "were not aware that this significant motion would be presented." We sympathize with this sense of frustration – because we feel the gist of all significant public space discussions should be shared early, and invite reflection and input on the part of the public.
That being said, on the assumption that the tract of land that comprises the Langara course remains a public space (and isn't turned into another other, non-public use) we are not opposed to an exploration of the broader questions implied by the motion. As it relates to municipally owned golf courses, the idea of re-purposing the courses isn't a particularly new idea. Most recently, it was raised earlier this year by Happy City's Charles Montgomery during a public talk on the future of parks in the city.
Golf courses allocate a significant amount of public land (in Langara's case, about 50 hectares/120 acres) to what is primarily a single recreational activity , and do so by charging an access fee (pay to play). This, in turn, is a revenue stream for the Park Board. In a growing city, where recreational and public space needs are diverse and ever-changing, there's a reason to ask whether these single (or narrow) use spaces should be broadened in their uses. Indeed, looking at questions around the future of the Langara course (and other municipally-owned golf course lands), ought be part of the Park Board's #VanPlay Parks Masterplan work. Ongoing discussion about how best to use all public spaces to serve the needs of our growing and diverse population is key to making sure they fulfill their function as civic assets.
True, Langara is more than just golf. It is encircled by a popular walking and jogging trail, and it trees provide important habitat. It also has a pair of tennis courts tucked in on its eastern edge. But it's also worth noting that almost every truly sizeable greenspace south of 41st Avenue is tied to one of the City's golf courses. And with new housing coming on stream along the Cambie Corridor and in the recently approved Langara Gardens, there will be a need for more open space for present and future residents. What if Langara or one of the other golf courses became a new southern destination park to rival other major multipurpose greenspaces in the city?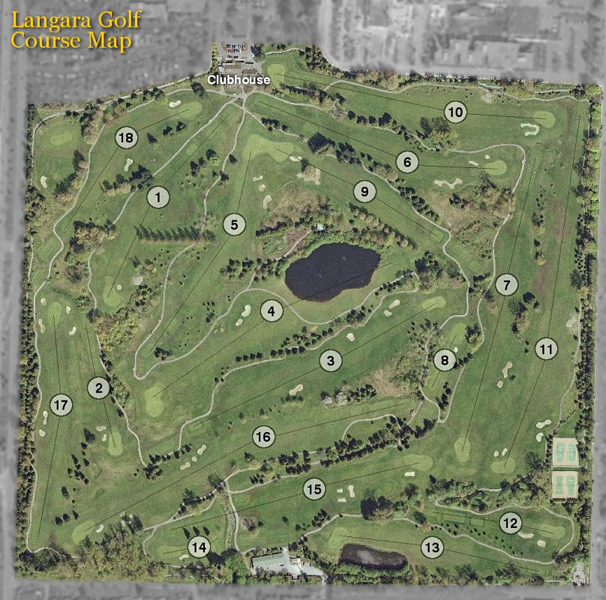 Thing get tricky, of course, when you read the motion, and in particular it's request to look at using "some of" the lands. The present golf course is pretty tightly laid out, so it's not as if it could accommodate other uses without really rethinking the overall design. But then, the original 1926 course was redesigned in 1994 – so there's precedent of a sort for that.
All of which to say, we're curious to understand more about the implications of these options. It's a discussion worth having, and we hope that it can be approached with a clearheaded view for the long-term. We recognize there are arguments to be made on both sides – so let's embrace this reality and not skirt the discussion.
Photos: City of Vancouver.